Post by starfire on Jul 4, 2017 15:23:01 GMT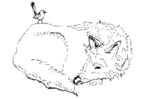 I never read about this shirt shenanigan until now. What's kind of funny (at least to me) is that R+L=J is in the title of the article, but if I were interpreting this as either a clue or a fun trolling on their part, I would have thought they would be teasing or hinting at R+L=D. There is absolutely no J anywhere in the picture, at least from what I can tell. They are David and Dan (D&D), so whether the R+L on David's shirt refers to his own initial or Dan next to him, I'm not seeing any J's, unless the guy in the Ralph Lauren Polo emblem has a name that begins with J or the guy on the horse is supposed to be Jon?
Regardless, if someone were just looking for Easter Eggs (I believe they are called) from the show, those book readers who might believe RLD as a possibility, may not so easily dismiss Dany's presentation of the blue rose from Daario or Ned's arguing for Dany's life in front of a seven-pointed star, which looks like it has a blue rose in the middle of it. Geez, can you imagine if Jon was in a scene with a harp or something?
So, how can a book reader determine what are Easter Eggs, what are incorrect interpretations, or what is fun trolling at the fan's expense? I suppose the answer to that could be the infographic, which was kind of an odd move in of itself (IMO), but I guess we will have to wait and see if they provide further confirmation in the show.
And why even troll fans at all? I'm not saying the infographic is fake or anything, but I'm just wondering what actual purpose did the early confirmation serve? If it were just to spell it out for people, what exactly about this reveal couldn't wait until Season 7? Oddly, the news of this infographic wasn't that well-hidden once mainstream internet sites picked up on it. My husband asked me about it and he bailed on the show in the early episodes of Season 3, he just couldn't get into the story. The strange thing is, I don't think the show has foreshadowed R + L = J nearly as much as the books. After the big tower reveal, thousands of people thought Ned was Jon's father.
Agreed. They could have done it a bit better. I've seen some show only viewers get their balls busted for thinking that the father was Ned or Robert, but I could understand why they may have come to that conclusion. There is a lot going on in this story, so they may not have been able to remember some of the more popular secondary characters' names, let alone Rhaegar and Lyanna's names. In the books the story is set up for everyone to believe that Jon is Rhaegar's, which I believe is leading to a big twist reveal. The show wants that same twist reveal, but realized quickly that their reveal is about to fall flat. I bet that is why they put up that info graphic. They want everyone standing on the same Targaryen colored rug, when they pull it out from under them.
If this is their plan, then I could definitely see that working.