Post by shymaid on Nov 21, 2017 6:05:56 GMT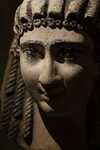 At the beginning of Clash, we get this:
They rode by night, and by day took refuge from the sun beneath their tents. Soon enough Dany learned the truth of Doreah's words. This was no kindly country. They left a trail of dead and dying horses behind them as they went, for Pono, Jhaqo, and the others had seized the best of Drogo's herds, leaving to Dany the old and the scrawny, the sickly and the lame, the broken animals and the ill-tempered. It was the same with the people. They are not strong, she told herself, so I must be their strength. I must show no fear, no weakness, no doubt. However frightened my heart, when they look upon my face they must see only Drogo's queen. She felt older than her fourteen years. If ever she had truly been a girl, that time was done.
ACOK-Daenerys I
then we get this.
Sometimes he thinks of me as a child he must protect, and sometimes as a woman he would like to bed, but does he ever truly see me as his queen? "I am not the frightened girl you met in Pentos. I have counted only fifteen name days, true . . . but I am as old as the crones in the dosh khaleen and as young as my dragons, Jorah. I have borne a child, burned a khal, and crossed the red waste and the Dothraki sea. Mine is the blood of the dragon."
ACOK-Daenerys II
So, early in Clash I, Dany is already 14 years old. By Clash II, she is 15? If this is correct, she has to be sixteen by the time she is sitting the throne in Meereen. However, is there a difference between years and name days in this world? I don't really think so, or GRRM seems to use it interchangeably. Or has Dany forgotten how old she is? Or is she exaggerating? I never noticed this discrepancy before. Dany never thinks of herself as either 16 or 17. Only 13, 14, and one chapter later, as 15, but with time passing, I would think she has to be 16 by the end of Dance.
Based on what we know, if Dany is 16, then Jon (and Robb, if he was still alive) would be 17 years old at the end of Dance. Dany turns 14 in her POV around the time that we hear Jon has had his 15th name day, and when we hear that Robb is 15, according to Bran's POV.
And yes, maybe at the time Jon has that thought about Arya, she was eleven, but is 12 by the end of Dance. Or maybe Jon has lost track, like Eddard seems to loose track of Tommen's age?
Even if the Titan did eat juicy pink girl flesh, Arya would not fear him. She was a scrawny thing, no proper meal for a giant, and almost eleven, practically a woman grown.
AFFC-Arya I
At the beginning of Feast, Arya isn't even eleven, but must be close, so maybe Jon's timeline is correct. Or Arya's experiences have caused her to mistake how old she is?
It really makes no difference to the concept of Arya being forced into Ramsay's bed. Either way, 11 or 12 is very young, but it all could make a difference in the end to how old these characters are, depending on what kind of adult things their characters might be doing.
Yeah, it kinda gets all over the place as the story unfolds. I've pondered this yesterday, and have some tentative conclutions on some of this, but far from all!
We have the discarded timegap. So some things would've made more sense with that, but now he has to ignore that problem. Maybe should've had that at the very start, having things blow up in King's Landing after a few years? I don't know, the story is what it is now.
But there are still troubles with his timeline, and he knows it. So for the most part I let that slide and try not to pin things down to something very spesific (getting hold of the storylines is work enough right now!).
As for the Arya thing, I think it could be all down to being a mummer's farse. Tyrion and even Vicerys had objections and/or concernes about Sansa and Dany being only 13 and married off, considered them too young. Barely being borderline acceptable due to have flowered. And condsidering Viserys isn't the best brother, that's saying something!
So when Roose has the gall to say
"The hall is not the place for such discussions, my lords. Let us adjourn to the solar whilst my son consummates his marriage. The rest of you, remain and enjoy the food and drink."

makes me think everyone knows it's a mummer's farse, and everyone knows that everyone knows. He's basically just saying it right there. It's not the only reason I think everyone knows, of course. I highly doubt Jeyne could pass as an 11- barely 12 year old, or that anyone would think Arya would look so much older before puberty sets in. Including Catelyn's misgivings on Jon looking so much like Ned, and Jon looking like Arya, I think it's very possible this would spread amongst the other lords in the north. Those that saw them (Manderly for one) would probably make note of that, and word would get around. (And I managed to get this back to Catelyn!
) So all in all, I think that's a reason this happens, and there is no spoken objections to the consumation. Still not fair to Jeyne though! And yes, my mind is stuck in the snowd in Winterfell these days!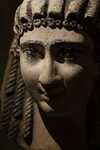 Agreed!