Post by shymaid on May 3, 2017 8:57:05 GMT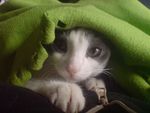 I could not find Jojen's mention of a 3YC in his dreams, nor Euron's but i found these:
Meera to Bran
"We have plowed this field before," his sister said. "You want to make for the Wall, and your three-eyed crow. That's well and good, but the Wall is a very long way and Bran has no legs but Hodor. If we were mounted . . ."
Coldhands to Meera
Meera's gloved hand tightened around the shaft of her frog spear. "Who sent you? Who is this three-eyed crow?"
"A friend. Dreamer, wizard, call him what you will. The last greenseer." The longhall's wooden door banged open. Outside, the night wind howled, bleak and black. The trees were full of ravens, screaming. Coldhands did not move
Leaf to Meera
Come now. It is warmer down deep, and no one will hurt you there. He is waiting for you."
"The three-eyed crow?" asked Meera.
"The greenseer." And with that she was off, and they had no choice but to follow
It seems to me, that Coldhands is pretty definite when asked by Meera who is Bran's 3YC.
And Leaf, just like BR, is nonplussed by the mention of a 3YC.
In Bran IV, Clash, Jojen talkes a lot of 3EC:
"I dreamed of a winged wolf bound to earth with grey stone chains," he said. "It was a green dream, so I knew it was true. A crow was trying to peck through the chains, but the stone was too hard and his beak could only chip at them."
"Did the crow have three eyes?" [Bran asks]
Jojen nodded
<very short snip>
"When I was little I almost died of greywater fever. That was when the crow came to me."
<short snip again>
"You are the winged wolf, Bran," said Jojen. "I wasn't sure when we first came, but now I am. The crow sent us here to break your chains."
<short snip>
"The crow gave you the third [eye] <snip>"

So he is clearly knows the crow.
Re: Coldhands. Yes, he says they are the same. But who is Coldhands? Would he risk his mission to take Bran to the cave? If Meera is right and they've been going in circles they are much closer to the Wall and safety than they think.
Leaf doesn't deny or confirm, wich I think is odd. She leaves it open if they are the same or not. interpretation and GRRMs word games...
BR
pauses
and then thinks crow=NW, but thats a wildlings term, not used south of the Wall. And he is famously tied to ravens.
No direct mention of the crow from Euron, but
"When I was a boy, I dreamt that I could fly," he announced. "When I woke, I couldn't . . . or so the maester said. But what if he lied?"
"Perhaps we can fly. All of us. How will we ever know unless we leap from some tall tower?" The wind came gusting through the window and stirred his sable cloak. There was something obscene and disturbing about his nakedness. "No man ever truly knows what he can do unless he dares to leap."
- The Reaver, Feast

has made many people wonder if 3EC has visited him. Like
here
. His name is also suspicious.
My own toughts on raven vs crow off the top of my head:
Ravens are messengers, good or bad
Serves men
Can give info in waking life (like Mormont's)
Symbolically tied to Odin = one eye = BR (uncertain of how strongly at the moment), Odin if a friend of men
Crows feast after battles etc = tied to death
Not a friend of men = wild
Gives messages only in dreams, wich can be manipulated

Known as tricky, a liar and not to be trusted both sides of the wall

And I come back to the fact that they are two different kinds of birds. So I don't trust 3EC, it raises my shackles!

Hope this helps!