Post by jakscaletongue on May 9, 2016 18:26:18 GMT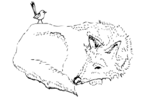 1. AACK! I have no idea how I missed your response for so long! My apologies.
2. HA! Any site can be named!
3. Yup! I've seen that, too, about Martin's originally saying Tyrosh. And it's a completely fair point.
The thing is--Martin ran with it. Not just the Braavos, but stating again and again that lemons come from Dorne. Often.
Plus, as
Lady Dyanna
pointed out elsewhere, Dany remembers animal carvings, carvings which sound like what the Orphans of the Greenblood do. Which, if it holds, would mean there are more than lemons tying Dany to Dorne.
Completely fair. And true, re: the tree and the dinosaur--or, as
slant
made a thread on Westeros to note, a velociraptor.
Though the tree is not the only thing the that's off with the story.
IE: you mentioned the servants' stealing things from them. If so, how did they still have their mother's crown? And, if Viserys and Dany are the valuable ones, why would they be thrown out after Darry died? He's not the valuable one. If anything, his death would make it easier to do with the kids whatever people wanted to.
Dany's childhood just seems off. And even in
Dance
, after she's declared herself the Dragon's Daughter in
Game
, after waking dragons and even being a dragon rider, she's still seeing visions of Quatihe , asking her if she knows who she is. Why? Seems like there's something Dany doesn't know about herself.
And some of the weirdness with Darry seems tied to that.
Oh, I agree there is plenty to question about Dany's childhood. But the focus on lemon trees, and the insistence some people put on the lemon tree being "out of place" in Braavos seems, to me anyway, like the *easiest* thing to dispel. Rich people in Braavos can keep a velociraptor from Sothroyos alive and well, but a lemon tree is impossible? Really? It's the singular focus on the lemon tree that bothers me, especially when the lemon tree, by itself, can be easily explained by the Tyrosh/Braavos switch, a good greenhouse, or a talented gardener. Winterfell has greenhouses, and I personally highly doubt Winterfell has the ONLY example of greenhouses on the entire planet. So yeah, I agree there's plenty to question about Dany's childhood, I just don't think that the damn lemon tree is one of them! LOL! It's not like she remembers groves of lemon trees - her only recollection is a single lemon tree. If it was a grove/orchard of 'em, then yeah, it'd be worth talking about. But she only uses the singular, which could easily be in a planter or patch of dirt in the courtyard of the house she grew up in (wherever that may be).
Hell, I'd be willing to bet even Highgarden can grow lemon trees for ornamental purposes - not enough to export any, not even enough to stop importing them from Dorne, but enough to add some interest to a lovely garden with the trees bearing a few lemons each a year (as was quite often done in orangeries in Western European palaces and castles - Versailles had lemon trees in their gardens, but they still had to import lemons to use the fruit in anything like lemoncakes!). So far as we know, Dorne's the only place that produces enough lemons to viably export those lemons. That doesn't mean that lemon trees are absolutely obsolete in every other region. It just means Dorne is the only place that produces a surplus large enough export and other places do not produce enough to cease importing the Dornish lemons. Or maybe Dornish lemons are just better (sweeter than average, more fruit less rind, bigger, etc.) and that's why they've got the market on exporting lemons. Basically, I don't buy the lemon tree argument - I agree there's plenty about Dany's childhood we don't know, and hopefully we find out more, but I don't think it hinges on a single lemon tree, that with the proper care can and will survive and thrive just about anywhere. Even Winterfell's greenhouses could grow a lemon tree, with actual lemons - they wouldn't be great lemons, probably quite sour and small, but it's still a lemon and would still prevent scurvy! Probably wouldn't want to make a lemoncake out of it, though, not without a lot of sugar!