Post by lynn on Aug 10, 2017 9:10:25 GMT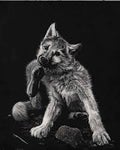 When Jon's party finds Othor and Jafr at the grove of nine-trees; the lights are on, but nobody is home. It's been argued that the wights are only active when the sun goes down, except that isn't the case with Varamyr and Thistle; nor is it the case with the wights outside the cave of the greenseer. Nor does Ghost react to O&J as a threat when he finds them, in the same way that he does when they are animate. To my mind, something is missing.
The most curious thing about Othor is not so much that he made a bee-line to the Lord Commander's quarters; it's his reaction to Jon:
A Game of Thrones - Jon VII

Jon's breath went out of him as the fallen table caught him between his shoulder blades. The sword, where was the sword? He'd lost the damned sword! When he opened his mouth to scream, the wight jammed its black corpse fingers into Jon's mouth. Gagging, he tried to shove it off, but the dead man was too heavy. Its hand forced itself farther down his throat, icy cold, choking him. Its face was against his own, filling the world. Frost covered its eyes, sparkling blue. Jon raked cold flesh with his nails and kicked at the thing's legs. He tried to bite, tried to punch, tried to breathe …
The business of forcing his hand into Jon's mouth is 'queer' and calls to mind Jaqen H'gar's oath:
A Clash of Kings - Arya IX
"Swear it," Arya said. "Swear it by the gods."
"By all the gods of sea and air, and even him of fire, I swear it." He placed a hand in the mouth of the weirwood. "By the seven new gods and the old gods beyond count, I swear it."
Jon's weirwood dog also presents Jon with Jafr's hand after Jon has bound himself by oath. I don't think this is coincidence. The grove of nine-trees is also significant:
The sun was sinking below the trees when they reached their destination, a small clearing in the deep of the wood where nine weirwoods grew in a rough circle. Jon drew in a breath, and he saw Sam Tarly staring. Even in the wolfswood, you never found more than two or three of the white trees growing together; a grove of nine was unheard of. The forest floor was carpeted with fallen leaves, bloodred on top, black rot beneath. The wide smooth trunks were bone pale, and nine faces stared inward. The dried sap that crusted in the eyes was red and hard as ruby. Bowen Marsh commanded them to leave their horses outside the circle. "This is a sacred place, we will not defile it."

When they entered the grove, Samwell Tarly turned slowly looking at each face in turn. No two were quite alike. "They're watching us," he whispered. "The old gods."
I think this grove has it's representation in the crown of the kings of winter:
A Clash of Kings - Catelyn I
The ancient crown of the Kings of Winter had been lost three centuries ago, yielded up to Aegon the Conqueror when Torrhen Stark knelt in submission. What Aegon had done with it no man could say. Lord Hoster's smith had done his work well, and Robb's crown looked much as the other was said to have looked in the tales told of the Stark kings of old; an open circlet of hammered bronze incised with the runes of the First Men, surmounted by nine black iron spikes wrought in the shape of longswords. Of gold and silver and gemstones, it had none; bronze and iron were the metals of winter, dark and strong to fight against the cold.
The question is whether or not Jon and Sam have sworn an oath to the crown:
A Game of Thrones - Catelyn IX
"You swore an oath to my father," Catelyn reminded him.

He bobbed his head side to side, smiling. "Oh, yes, I said some words, but I swore oaths to the crown too, it seems to me. Joffrey's the king now, and that makes you and your boy and all those fools out there no better than rebels. If I had the sense the gods gave a fish, I'd help the Lannisters boil you all."
Allegory of the
Snow Crown
:

A Game of Thrones - Catelyn VI
The waycastle called Sky was no more than a high, crescent-shaped wall of unmortared stone raised against the side of the mountain, but even the topless towers of Valyria could not have looked more beautiful to Catelyn Stark. Here at last the snow crown began; Sky's weathered stones were rimed with frost, and long spears of ice hung from the slopes above.
It can't be coincidence that Othor and Jafr are waiting at the grove of nine-trees or that they move to dispatch Mormont after Jon has taken his oath.
A Game of Thrones - Jon IX
Tyrion Lannister had claimed that most men would rather deny a hard truth than face it, but Jon was done with denials. He was who he was; Jon Snow, bastard and oathbreaker, motherless, friendless, and damned. For the rest of his life—however long that might be—he would be condemned to be an outsider, the silent man standing in the shadows who dares not speak his true name. Wherever he might go throughout the Seven Kingdoms, he would need to live a lie, lest every man's hand be raised against him. But it made no matter, so long as he lived long enough to take his place by his brother's side and help avenge his father.

A Game of Thrones - Jon VII
Then he saw it, a shadow in the shadows, sliding toward the inner door that led to Mormont's sleeping cell, a man-shape all in black, cloaked and hooded … but beneath the hood, its eyes shone with an icy blue radiance …
Shining with radiance
seems a different quality to eyes like blue sapphires.
I'm also curious about Sam's oath of silence to keep Bran's secret and the power it holds over him. An oath he makes three times to Jojen (green dreamer), Coldhands (green man) and Bran (greenseer). Somethings tells me that it wasn't the oath of the Night's Watch used to open the Black Gate but something older: earth and water (Jojen), bronze and iron (Coldhands), ice and fire (Bran)?