Post by shymaid on Apr 25, 2018 18:51:04 GMT
In this chapter it seems like most parentage is in the question of who's the father of Cersei's children, and this has been answered. In a way, it might not be that much to make a thread about, but maybe someone finds something more than I did.
I did want to just mention that there are a double set of hints of who killed Arryn here, where the part that stood out to me was this sequence:
"When I saw that all hope had fled, I gave the Hand the milk of the poppy, so he should not suffer. Just before he closed his eyes for the last time, he whispered something to the king and his lady wife, a blessing for his son. The seed is strong, he said. At the end, his speech was too slurred to comprehend. Death did not come until the next morning, but Lord Jon was at peace after that. He never spoke again."
Ned took another swallow of milk, trying not to gag on the sweetness of it. "Did it seem to you that there was anything unnatural about Lord Arryn's death?"
That really made me think of sweetsleep! So I think Pycelle is a big contender to have killed Arryn, by giving him a final leathal potion that last night. Perhaps because he was afraid of what Arryn might tell Robert, either by actually getting a bit better or in a clear moment? Doesn't exuse Lysa by any means, just an observation. That he didn't die until the next day reminds me of the potential resistance Sweetrobin shows to sweetsleep, and so "the seed is strong".
It's probably something that can be discussed in an eternal circle, and honestly I'm not after that here. Just wanted to make a note of it!
An interesting end to the chapter is Littlefinger uses Barristan as a substitute for Ned when he speaks to him in the last scene in the book; they really are quite similar in many ways!
Another part we find is this chapter, that has come up in several of these threads are this one:
Ned knelt beside her. "He has years to find that answer, Arya. For now, it is enough to know that he will live." The night the bird had come from Winterfell, Eddard Stark had taken the girls to the castle godswood, an acre of elm and alder and black cottonwood overlooking the river. The heart tree there was a great oak, its ancient limbs overgrown with smokeberry vines; they knelt before it to offer their thanksgiving, as if it had been a weirwood. Sansa drifted to sleep as the moon rose, Arya several hours later, curling up in the grass under Ned's cloak. All through the dark hours he kept his vigil alone. When dawn broke over the city, the dark red blooms of dragon's breath surrounded the girls where they lay. "I dreamed of Bran," Sansa had whispered to him. "I saw him smiling."
I had a little marry-go-round with this scene, and a couple of things came up I think.
Firstly I had a mad search for trees that we get here, but I found was really just elm and oak.
This godswood has an oak as a heartree – oak is used as a symbol in many official ways in our world: as a national, regional, politlcal and stately symbol. As such it is fitting as the capital's hearttree. Also we know it as part of the oak king previously discussed here at the forum, and it's connection to Robert. But it's also connected to lightning, thunder and storms throughout Europe in their old religions, myths and stories, and so connected to Robert the Storm Lord (or Storm King I should probably say).
In looking for information on elm, I found it's used in two litterary themes:
«Paradisal Elm» that is charactarized by the idyllic life, and that an elm's shade is a place of special coolness and peace; this I find a nice fit with both the scene in general, and tied to Ned and his own godswood at Winterfell. Neither place has an elm as a heartree, but both have elms in them. This theme is also known as «elm-an-vine».
«Elm and Death» is the other theme, which is tied to the Underworld and ill omens.
I found this interesting as the godswood also has a vine climbing up the heartree! As I didn't find smokeberries in the real world (Yes, I suck at English botanical names), I took a look at vines in general instead. What is one sort of vine called but "liana"? I think a bell just rung!
I haven't found a satisfying tie to what happened during the rebellion to this yet, but here's an overview of my thoughts so far.
Firstly, that the oak (Storm King) is overgrown with a vine (Lyanna) seems fitting as Robert have placed Lyanna on a pedestal over the years, and refuses to let her go.
While this scene is quite idyllic, of course Martin didn't give us a "paradisical" story! Ned's thoughts do seem to long for a future in that direction, but it seems like the other theme takes over: death.
Ned's own tie to the Underworld (= the north), seen in Catelyn's first chapter in particular, is fitting here. Also makes me see another angle of Lyanna's dying wish to be burried in Winterfell with her kin. Not just to rest at home, but also a wish to go to the Underworld now that her life was over. In my mind at least, she's closely tied to death as it lays so heavily on Ned's mind and Robert's.
When thinking of the ill omen in the second theme, what stood out was "they knelt before it to offer their thanksgiving, as if it had been a weirwood." This whole scene is tied to Bran, so it's a bit ironic that he will end up on a weirwood throne! Did he survive so he could feed the trees?
The dragon's breath is also interesting, but I'm not sure how it's an omen for the future. Will Sansa marry Aegon perhaps? Right now I don't have any direct connections from dragons to Arya's arc. So I guess it would be half baked speculations to what it could mean for the future on my part. I feel I need a better grip on the story before I start thinking of what's to come.
On the question of if it could tell us something of what happened to Lyanna, I took a look at the whole sentence:
When dawn broke over the city, the dark red blooms of dragon's breath surrounded the girls where they lay.

I'm not sure what to do with this to be honest.
I did have a thought the other day, noted in the previous
Arya chapter
, on Arthur and Lyanna: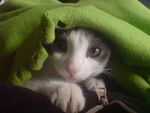 So, if this tells us something about Arthur and Lyanna, could it be that he first held his hand over her, but "broke" after she was in the custody of the dragon(s). In thinking about this, and noting Sansa here, I can't help thinking he took her under his
wing
cloak. And in this world we have the wedding ceremonies where the girls/women is cloaked by their new husbands. Not to say I think they married, just a line of thought out of many for now. While it's easy to mainly look at Arya for clues to Lyanna, I don't think we can ignore Sansa either. And she has many incidences with cloakes, including two from the kingsguard. But Arya too has a cloaking theme in her arc, but more in a metaphorically way. She cloaks herself in new identities (and haircuts, and rags), and now (possibly) with new faces as well.
For some reason it also reminded me of Ned's feverdream:
A storm of rose petals blew across a blood-streaked sky, as blue as the eyes of death.
Could be the "dawn broke" part, as it naturally makes me think of Dawn. It's not an elegant or obvious connection between these two, but non the less it came to me. Perhaps I need to leave it to simmer for a bit!