Post by freyfamilyreunion on Aug 12, 2015 17:37:32 GMT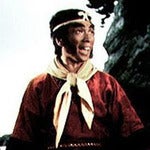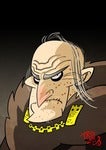 My theory is that none of the powers ascribed to Howland, who does not have green dreams, are "real magic" rather than the magic of the Crannogmen. I think it belongs to the idea of a kind of druidic "magic" based on a deep understanding of nature and knowledge of secrets known to few. We have "make castles appear and disappear" along with the idea that Greywater Watch doesn't stay in the same place. I suspect he "makes castles move" by having his crannog rigged to be uprooted and poled to a different part of the swamp. Breathing mud and walking on leaves just sounds like swamp survival skills, and I'd guess earth into water and water into earth is about leading people astray through the swamps and finding the dry patches while they flounder in a morass that looked solid.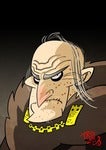 The Sweet Track is one of a whole network of neolithic "corrugated" timber trackways around the Somerset Levels, but doesn't lead to Glastonbury Tor. The "island" of Glastonbury was likely never (or at the least never year-round) an island like the Quiet Isle, surrounded by open water. Rather it would be a dry hill rising out from a seasonally flooded reed-swamp. Much of the area would be dry enough to built those wetland trackways over after all, but none of those tracks are tidal causeways. St Michael's Mount is actually in the sea (Glastonbury is about 15km inland), with a tidal causeway that's covered at high tide and it had a monastery on the top. If you've never been there, I highly recommend it -- and assure you that you'll have it in you're mind's eye whenever you read about the Quiet Isle again.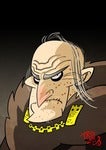 Hmm. Why would blue roses be a symbol to his inner circle? I mean they're pretty much a Winterfell thing, right? Seems like as a symbol, he'd have to explain its meaning first. Which surely renders it a bit pointless.
Bael is the one who did the blue rose trade, and it's Bael's bloodline that was implanted into the Starks. How does
Howland
and his bloodline come into it? I find it a bit hard to reconcile Bael as Howland, yet Howland doesn't do a blue rose trade.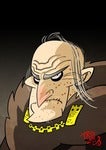 It's a problem true, though not a completely insurmountable one. There are green eyes amongst families including the Baratheons, Lannisters and even Velaryons as well as House Reed. Of course Jon doesn't have green eyes either. Oh well. Crackpot is as crackpot does, whatever that means.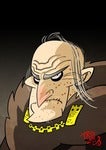 I don't really see Robert being a threat to Howland in those circumstances. It's one thing going to war over an abduction, another over your girlfriend falling in love with another man.
Lonmouth is missing, true. The Dornish contingent were certainly aligned politically with Rhaegar, but were they in his inner circle when it comes to the whole political business? We're hardly talking about a major danger far away in the North though. In this situation it also seems to me that Jon would be at far greater risk at Winterfell, one of the capitals of the seven kingdoms, than in Greywater Watch, which is virtually unfindable and impregnable.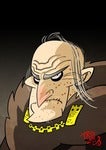 Ok, I quite like that one. Though if so, her plan really didn't work if it then required Jenny & unborn son to flee from Summerhall anyway.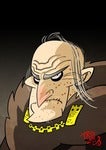 Right, but in this scenario Rhaegar's blood is intermingled, but Howland's contains no Crannogman blood at all (or at least not in any historical proximity). What reason do you have for saying there's fire in Howland? He's associated with mud all the time, but how fire? And how did he become a Reed?
My concern about this whole essay is that when it hits a more hostile audience over in the Other Place, it's going to meet a lot of "Where's the evidence" comments, and a lot of the really interesting stuff you've got here will get ignored. You've got a tough ask with this one simply because there's so little reference to Howland compared to Rhaegar that it's inevitably going to be tough to find your connections. An awful lot of your actual Howland+Lyanna stuff, rather than the more mythic stuff, does fall rather in the "might have" category. Rhaegar
might have
wanted Howland's and Lyanna's bloodlines combined, Howland and Lyanna
might have
fallen in love at Harrenhal, the Ghost of High Heart
might have
been lying to protect Jenny etc. I think you need something more solid to back up the speculation. Can you find any hints connecting Jon and Howland directly? I think that would help a lot. Any swamp-related language that's associated with him, for example?
Another thought that just occurred to me. If Howland and Lyanna were in love (and married indeed), wouldn't it be odd that Howland hung around outside while Ned spoke to her on her death-bed?
1) That was my initial thought about Howland as well, that crannog magic is just various poisons and trickery. But Howland does do a two year pilgramage on the Isle of Faces, learning the magics of the green men which seems like a pretty big deal to me. And there is also the suggestion that Howland can talk to trees, meaning Howland's powers may very well be similar to what Bloodraven is capable of.
2) I think you're nitpicking a bit on the Quiet Isle Glastonbury comparisons. The Quiet Isle really isn't much of an Isle either considering that if you know where to walk, you can walk right up to it. And the meandering nature of the secret passage to the Quiet Isle does seem to have much in common with the meandering nature of the Sweet Track (which apparently was submerged not too long after it was created) and of course only bits and pieces of the Sweet Track were uncovered. But I do agree that St. Michael's Mount fits the bill as well. And Martin usually never relies on one specific inspiration on his characters or locales but draws upon a number of different historical/mythological references in crafting his characters and locales. Granted I've never been, perhaps on my next trip to the mother land, but in the meantime I got a thumbs up from BC about the comparisons so for now, that's good enough for me.
3) I think that the important symbol to his inner circle may just be identifying Lyana as the queen of love and beauty, I think the actual color of the roses would be immaterial for Rhaegar's purposes. In fact it wouldn't suprise me that Rhaegar was completely unaware of the Bael the Bard story, it appears to be primarily just told amongst wildlings and not readily known in the South. The blue winter roses would associated with Winterfell in general though, since they were known to grow them, so they could have been a logical choice to hand them to Lyanna. Rhaegar being unaware of the Bael story kind of makes sense too, because he might not have been aware of just how provacative a gesture that could have been to the Starks.
And while superficially Rhaegar and Bael seem to have a connection in that they are both musicians, there is one crucial element of the Bael story that is missing in the tale of Rhaegar and Lyanna. It's important to note that Bael was invited into the Stark House under false pretenses, and he repaid the Stark hospitality by "stealing" Lord Stark's daughter. Rhaegar is very unlike Bael in that aspect. He never makes an attempt to take advantage of the Stark's hospitality or even makes an attempt to ingratiate himself with their House. Howland on the other hand is invited into the Stark family's tent and table at Harrenhal, making him much more Bael like if he indeed he is the one who "stole" Lyanna.
Take the example of Petyr Baelish. He is fostered at House Tully, and he uses his position to try and "steal" Catelyn for himself.
I think a big part of the Bael story is the violation of Guest Right, which is missing in the tale of Rhaegar and Lyanna.
4) I agree that Meera's eye problem doesn't completely invalidate Rhaegar as being her father, but for me anyway, it does detract from it a good bit.
5) I dont' think Robert would see the nuances between the two, or at least I don't think Eddard would trust Robert witht the nuances of that. After all Lyanna was promised to Robert, and Howland would have been aware of that.
As I stated earlier, the books have given us at least two examples of seperating persons so that they both can't be caught together. Brandon and Rickard, and Jeyne and Catelyn. Robb even gives the explanation that a man does not keep all of his treasures in one purse. So it makes sense to foster the child who takes after Howland in the Neck, and foster the child who takes after Lyanna in Winterfell. As far as safety goes, Winterfell and it's distance from the South would probably be just as secure a locale as the Graywater Watch (and probably a safer place to raise a kid).
6) I think Jenny fled because of what happened at Summerhall, which basically is her father in law possibly sacrificed her husband to hatch dragon eggs. I don't blame her for deciding that House Targaryen may not be for her or her unborn child at that point. So she returns home.
7) I do think that Jenny is from the Neck, I just think that she also can trace her lineage back to other First Men kings as well. So yes, I think Howland does have crannog blood from his mother.
8) As for your last question, it could be as simple as Eddard was the first one who arrived at Lyanna's death bed. After all he was probably a much better rider than Howland would have been. But it also coudl mean that Lyanna specifically asked for Eddard alone to enter the room. Which may go into the heart and the nature of the promises, which my gut is telling me is quite a bit darker than what I've laid out in my essay. I think that Lyanna asked Eddard to do something that she might have known the father of her child would not have approved of.
9) I fully expect this theory (or any other theory not involving Rhaegar to be Jon's father) to be widely dismissed in the Westeros board so that doesn't concern me. But while Howland is not mentioned very often, everyone knows that Howland is a major player, yet Martin is keeping him deep in the recesses of his story. And I think that Martin is doing this intentionally to maximize the suprise. I don't think that Martin wants the reader to figure out this mystery by themselves. I think that he wants to suprise the reader at the end. Which is why I doubt that Rhaegar is Jon's father. Martin is trying to steer us to this conclusion, so I remain suspicious of it. In an audio commentary of one of the HBO shows Martin talked about watching television with his mother. And he said that his mother was always able to predict and figure out the plot twists of the shows. Martin said he wanted to write a story that would suprise a reader like him mom. I think that Martin's mom would have figured out that Rhaegar and Lyana our Jon's parents.